Rebecca Patman Chandler
2269 Brisbayne Circle
Raleigh, NC 27615-4419
www.rebeccapatman.com
patmanart30@gmail.com
Studio Line: (919) 916-5123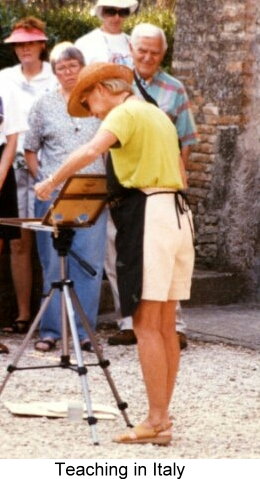 Rebecca Patman Chandler studied at the Ringling School of Art, Pennsylvania School of Fine Arts and the Italian Academy of Fine Arts in Rome. She has had 25 shows in her 40 year career and her paintings ad portraits are in private collections and institutions throughout the United States, receiving awards in both watercolors and oils.
She has won awards in the Watercolor Society of N.C. and the American Pastel Society at the National Arts Club Gallery in NY, and exhibited with the Oil Painters of America. Her work was represented in Encyclopedia of Watercolor Techniques and Painting Beautiful Paintings from Photographs published in England.
An experienced teacher, Rebecca has taught many workshops in figure painting, portraiture, landscape and still life. She returns periodically to teach at La Romita, an art school in Umbria, Italy.
Galleries:
Art Source, Raleigh, NC
Little Art Gallery, Raleigh NC
City Art, Greenville, NC
Carteret Contempory Gallery,
Morehead City, NC